Young People at Imperial, have your say
Helpful links for young people during coronavirus:
Young Minds advice and support on how to keep mentally healthy during coronavirus

Kooth free access to online counselling and an online community of young people

Good thinking mental health and wellbeing advice for people in London (with specific resources for eating disorders and ADHD)

Mind help with managing your feelings about changes to lockdown

Mental Health Foundation podcasts, videos, stories and other support if you are struggling with your mental health

Active Westminster join the movement! Get active indoors and find on demand videos
Headspace and Calm are mindfulness apps, you can try both for free. Or search mindfulness breathing exercises on YouTube
Find more useful links for managing at home with coronavirus in this letter our consultants have been sending with appointment letters.
Other useful links:
Health for Teens: sexual health advice
Talk to Frank: honest information about drugs
Young Minds: help when things are tough – mental health support for young people
MeeTwo: A free, safe and anonymous mental health app for 11-25 year olds, with fully moderated peer-support
Terrific Teens: digital stories from young adults, and their parents, about living with chronic conditions such as severe allergies, sickle cell anaemia, diabetes, inflammatory bowel disease
Health Talk: short video-interviews with people affected by health issues, sharing experiences from the patient perspective
My Big Career: Charity with the mission to provide free one-to-one career guidance to young people from disadvantaged backgrounds and to break down barriers to social mobility
Get in touch, be involved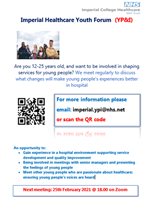 Are you 16-25 and want to be involved in shaping services for young people?

Email imperial.ypi@nhs.net to join the Young People @ Imperial Youth Forum.
We meet regularly to discuss changes that would make young people's experience in hospital better.
Welcome to our temporary virtual home...
For several years, we have been working to make more space and time for young people coming to Imperial College Healthcare NHS Trust for care.
What are we doing?
working with young people (LIKE YOU!) to make sure that we get it right

raising awareness about what young people need and want

looking at how we can make the transition from being in children's services to attending adult services better

making information and resources for young people, their families and healthcare teams
Who are we?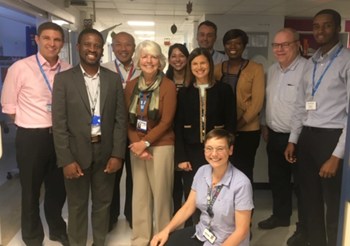 We are a group of doctors, nurses, therapists, secretaries, managers, pharmacists, coordinators, researchers and most importantly young people (including current and past patients at our hospitals).
Here are just some the some of faces of the many dedicated people involved.
Where are we up to?
With the COVID Pandemic, the need to support young people better has grown even more. That's why we have put together this page, we will work hard with you to shape this into something that gets better and better.
Introducing HEEADSSS?
For all people, life is about more than one thing.
Patients are mostly just people with a life full of activities, family, friends, learning and working.
To make sure we don't just look at the medical diagnosis – but understand the person more as a whole, we ask about other things in life. Because sometimes, there is stuff going on that can make a difference. Recognising it and talking about it may help.
HEEADSSS is a memory aide, to help us think about and ask about: Home, Education/employment, Eating, Activities, Drugs/drinking, Sex, Self-harm, depression and suicide and Safety (including online/social media). For medical professionals wanting to know more we've put together this 7 minute teaching pack.
This App explains the HEEADSSS assessment really well. It's free and easy to download: https://www.yphsig.org.uk/resources-1/app
Young People COVID Q&A
The first Young People Q&A took place on Microsoft Teams on 30 July 2020, 5:00 - 6:00 PM. We talked about Covid-19 and how it's affecting young people and their families. Find out how it went or read the questions and answers.
If you are part of a youth group and would like to host your own Q&A please get in touch.
YP@I Healthcare Fair 2019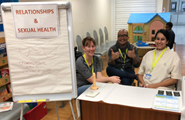 In October 2019 we held our first healthcare transition fair.
Now, it seems like a different life: lots of people in a small space, no masks…!
Healthcare transition describes the process of growing up with medical conditions and moving from children's services to adult services. We brought together children's teams, adult teams, and had drop-in and chat stalls with info about healthy eating, sexual health, emotional wellbeing, staying active.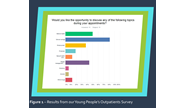 In 2019 we asked young people attending our clinics what they want to discuss: the top three topics were school/college, mental health and weight management
YP@I Healthcare Fair 2020 – what next?
With COVID we have to think again! We've been planning the Q&A to help answer some questions whilst we're not able to hold a fair.
What is Healthcare Transition?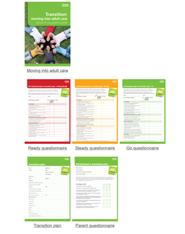 Growing up with a longterm health condition, such as diabetes, joint problems, asthma, allergies, blood disorders and many others is hard enough.
From the age of 11-13 years a lot of change happens on top of that – body changes with puberty, school changes, getting out and about without parents more, looking after your own health.
From the age of 16 years, most patients will leave Children's Services and move to adult services.
Learning all about how to look after your health yourself and being prepared for this move is what we call Healthcare Transition.
To help us and you make sure we talk about all the important things, we use a questionnaire called "Ready, Steady, Go".

Here is the link to their website: Ready Steady Go – link to University of Southampton Website.
Have a look!!
Some work we have shared with others to raise awareness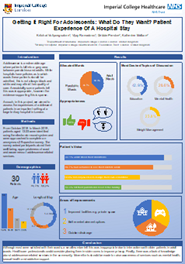 In 2019 we looked at what young people want from us.

Here are the results from a survey of some of the young people attending our clinics.

With time, we will have more information to share with you!