#NewEducators
With ever increasing pressure on the NHS to reduce costs and maintain standards, could it be that the experiences of patients and their families are worth listening to?
I was very fortunate to attend the 'Patients and families as the New Educators' conference at the Royal Society of Medicine. Throughout the day we heard from people who had varying experiences of healthcare, and mixed stories of how they met with incredible loss. The day was about listening to patients and putting them first.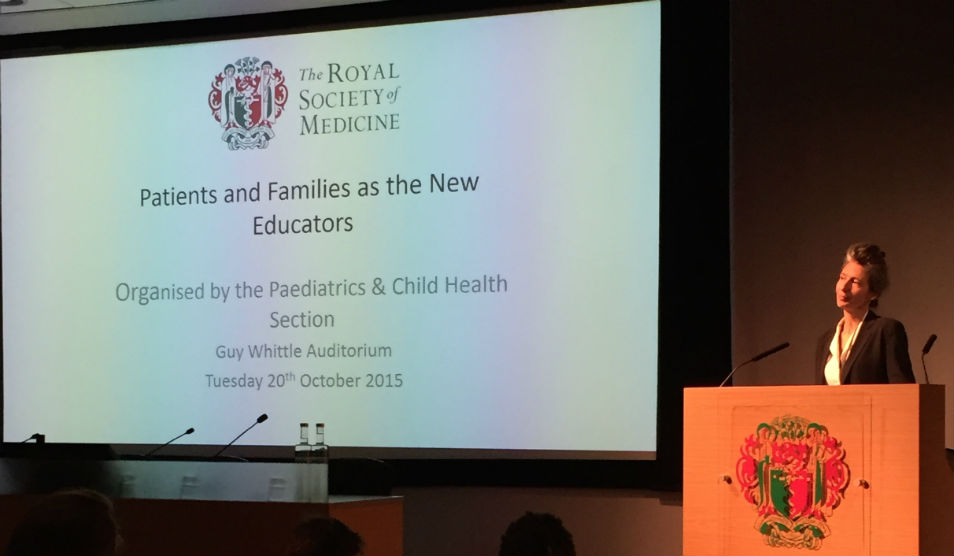 Kate Granger was the founder of the 'Hello my name is…' campaign. As a doctor who became a patient, during her stay in hospital she noticed that if healthcare professionals had simply introduced themselves to their patients, then a patient's experience of care would have been dramatically improved. It highlighted the importance of always thinking about how a patient is feeling and how the time spent in hospital can become less frightening and stressful. This campaign has been supported by Prime Minister David Cameron and is an example of patients having a voice and being given a platform to facilitate change.
Like so many others, I have been a patient in a large hospital. Although my experiences have been extremely positive, certain stories from the conference really resonated with me. For example, Aimee from St Mary's diabetic support group spoke about her transition to adult care. Aimee described how she found it a lot easier to have her parents in the room, especially when she was being told new information, so that they could all ask questions. She said that transition is 'a system that is fragmented, confusing and sometimes frustrating'. Could open conversations between the doctor and the whole family relieve these difficulties? A child's perspective could be quite different to that of their parents, which could mean that all have very different questions.
Another patient reflected on her need for better communication during her stay in hospital. She highlighted how clear and open conversation could relieve any possible tension and stress between her and her mum. If doctors explained everything clearly to her, as the patient, then she felt at ease. This had a positive effect on her mum. From these stories it is clear that open communication can have a profound effect on the patient. It may also mean that things don't need to be explained too many times, saving time and money. Surely, it's easy to learn from this and act differently?
The afternoon then shifted to understanding a parent's perspective. The presentations of the next three speakers were extremely powerful, emotional and thought-provoking. It is hard to put into words how much the courage, heartache and insights of three mothers could change how I address a patient's situation. This effect was described in 'Medicine's Next Big Break' blog by Dr Ben Holden.
Leigh Kendall told us about her son, Hugo, who sadly passed away in his mother's arms at 35 days old. Leigh spoke about her challenges during this difficult time, from the life-threatening pregnancy illness of HELLP syndrome, to moving forward after the loss and trauma. She also emphasised how we can better support parents during this time. Once again it was clear that communication and the impact of language can really have a lasting impact on a family. Leigh expressed the necessity of asking a patient why they feel a certain way about a decision. 'Asking these questions will create a meaningful experience'. I believe that facilitating this conversation, no matter how difficult, will help the family but also 'allows the medical staff to understand how they could/can make the experience right'. Does a patient always understand what has been said to them? Listening to a patient could potentially save time, resources, but most importantly help a patient manage their conditions, situations and last experiences. For me, understanding Hugo and his legacy makes us put patients and their families at the center of our work.
On Twitter Dr Sara Hamilton said, 'we cannot change the inevitable outcomes – but our duty as healthcare professionals is to say sorry and not lose empathy for another human's pain #NewEducators'
Joanne Hughes told us about her daughter, Jasmine, a funny, pretty little 20-month old girl who was admitted to hospital with a virus. Tragically due to numerous breakdowns in communication and a lack of attention to her basic observations, Jasmine died. She was in hospital for a month and from this experience Joanne wishes that future parents should be told the truth, however difficult. This honesty gives the opportunity to 'turn wounds into wisdom'.
Chezelle Craig told us about her beautiful baby boy, Tayden. Not long after Tayden was born Chezelle noticed that he was very quiet. Despite visiting A&E twice, Tayden received various misdiagnoses and medical errors and sadly passed away at just 19 days old. Both mothers spoke about their frustration when medical professionals did not listen to their instincts. Caring for a patient also means caring for the family too.
Dr Rebecca Hewitson said via Twitter that she was 'so moved by the incredible courage of Leigh, Joanne and Cherzelle, determined to spread your messages as widely as I can #NewEducators.'
I will never forget what I have learnt from listening to all of the patients and how the power of their stories can truly influence a room full of medical professionals. The patients weren't just a hospital number or people finding their way through the NHS system. Their stories matter, this conference gave them a chance to have a voice, which reminded me of Kate Granger and her need for her voice to be heard. Facilitating these conversations gives the opportunity for change, be that of standards or costs. There was a common theme throughout the day: how can we start a conversation that will lead to change? This conversation may not only lead to a change of a patient's experience, but could be a chance for us to learn and adapt so that we can then work in a way that puts the patient first.
Another tweet from a mother at this memorable conference sums up how we should continue to deliver the best possible service, that in time will have a positive impact on the pressures of the NHS.
'You may not have the power to change the outcome but you have the ability to influence the experience.'