Integrated care children's health GP Hubs, evaluation from across the UK
CC4C has always been interested in sharing, learning and supporting other teams who are interested in setting up a GP Child Health Hub model of care for children and young people. We are really excited by the network that has developed.
We have been able discuss the impact of the Child Health GP Hubs that have been set up in three different areas across the UK and were looking for a way to share the evaluation data in a way that is helpful to others. We hope that this summary helps to do this.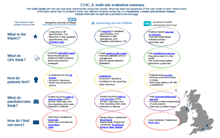 Find out more about how this new model of care is working in North West London, Hampshire and Northern Ireland: Child health GP Hubs: a multi-site evaluation